CRUSHER
1) Wave Overview
These images above will show how this wave and enemies arraged and distributed
2) Basic Parameter
→ Difficulty: 60-70% above
→ Wave zoom: 100%
3) Mechanic
Beginning of the wave, Safe zone and Anomally zone will appear like this:

After you stay in the safe zone, all barriers and enemies will appear. The Egg Barrier Wall will start moving slowly in the right direction.
This gif image will explain how this wall work: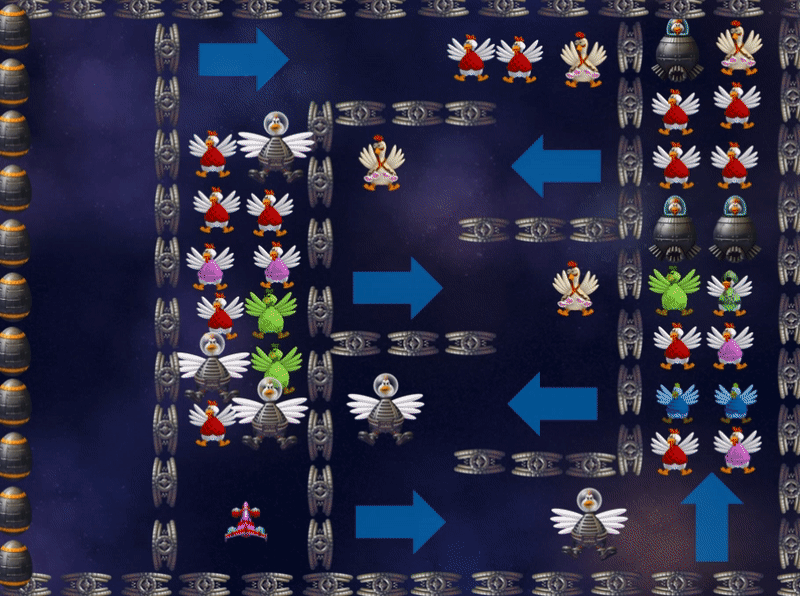 Your mission is to kill all enemies before the Egg Barrier Wall completely cover the screen.
HEAVY PRESSURE
1) Wave Overview
Heavy Pressure without barrier wall
2) Basic Parameter
→ Difficulty: 70% above
→ Wave zoom: 100%
3) Mechanic
Safe zone and Anomally distribution
Two barrier walls will move up and down, leave a gap between two walls equal to the gap of the double barrier width. When moving, the upper wall will cover the gap, while the lower wall will temporarily disappear and vice versa…
This video will show how this wall work.
So what do you think about this idea. Comment below this post. Hope @InterAction_studios read and consider this idea!
Thanks for reading!